To shorten review times and help you better co-ordinate and manage reviews, the Assign and Review Status features allow you to assign responsibility to relevant team members and track how drawing and document reviews are progressing. Some of the workflows our customers use these features for are:
Kicking off a new review cycle for a new set of drawings
After uploading the new drawing revisions, bulk select groups of drawings in the list view, set the review status to Needs Review, then assign drawings to the people who need to review them.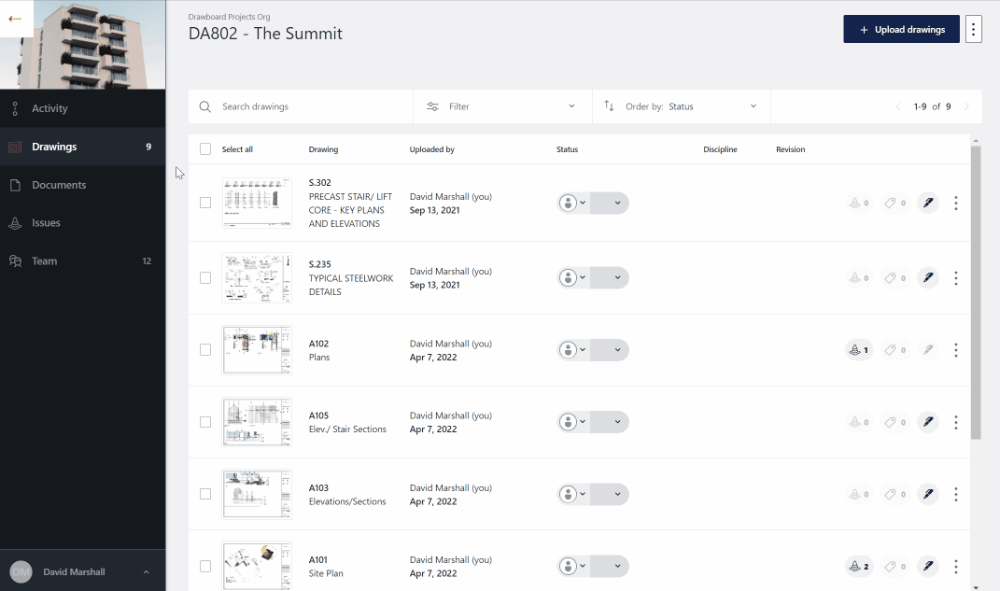 Approving or Rejecting a drawing
When your review is complete, change the status to Revise & Resubmit or Approved, then remove yourself from the list of assignees. If you need to notify someone to take the next action (e.g. to update drawings in CAD and reissue), either assign them to the drawing or @mention them in a comment on the drawing.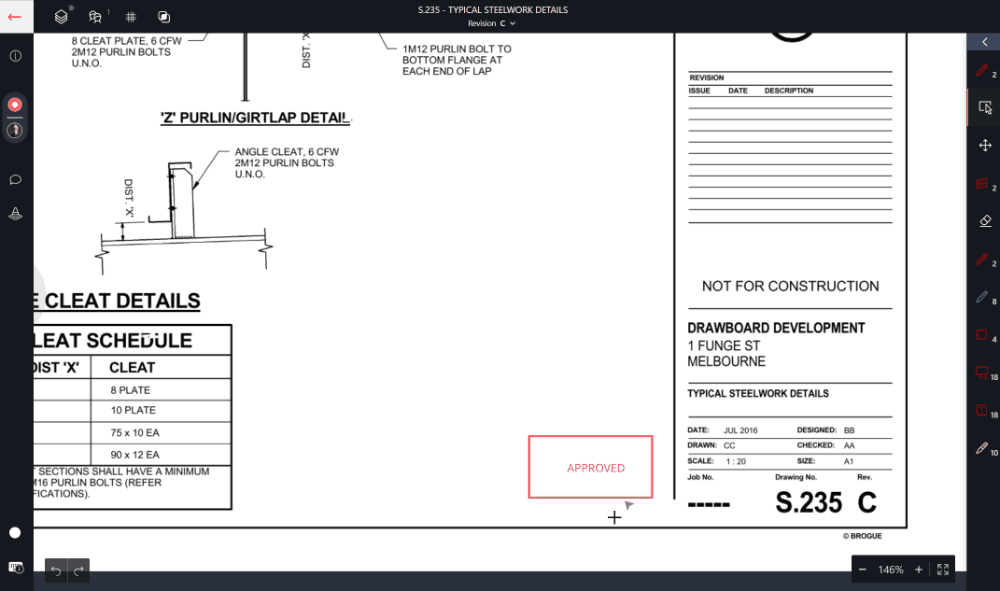 Noting when review is complete
If your workflow is simpler and doesn't need approval/rejection, use the Reviewed status to indicate which drawings have completed review, instead of Approved or Revise & Resubmit.

Assigning multiple people to review a drawing
If a number of people all need to review a drawing, they can all be assigned in one operation. As each finishes their review and adds any markup required, raises any issues or adds comments to the drawing, they can un-assign themselves. The last person to finish the review could change the status to Reviewed, or re-assign the drawing to a document controller for them to deal with.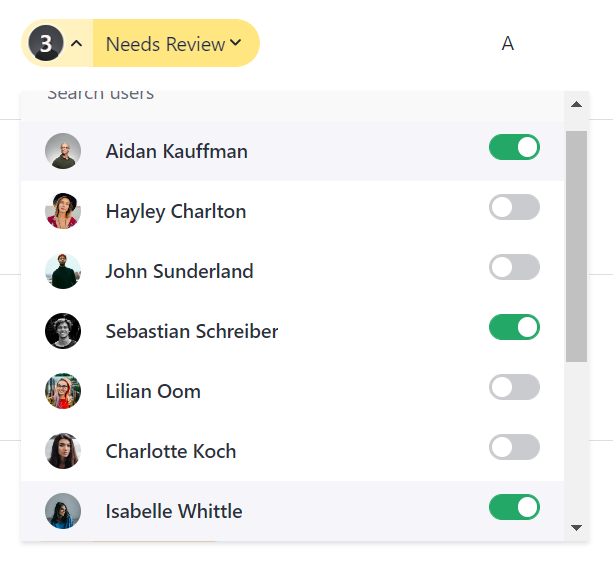 Checking on review progress
Filter by In Progress to show only those drawings actively being reviewed, then open drawings to check on progress. Comment on, mark up or re-assign drawings as required to keep things flowing.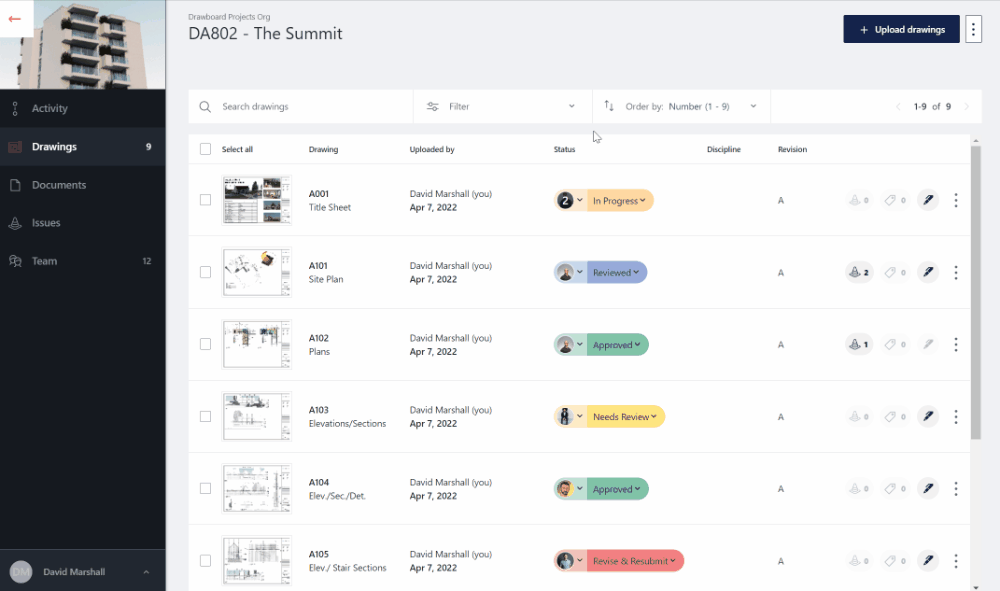 Make sure drawings aren't accidentally missed during a review cycle
Make sure no drawing is unreviewed, by filtering the list to show drawings with no review status, and setting them to Needs Review. Filter to show drawings that are unassigned and use the Assign button to task them to a team member.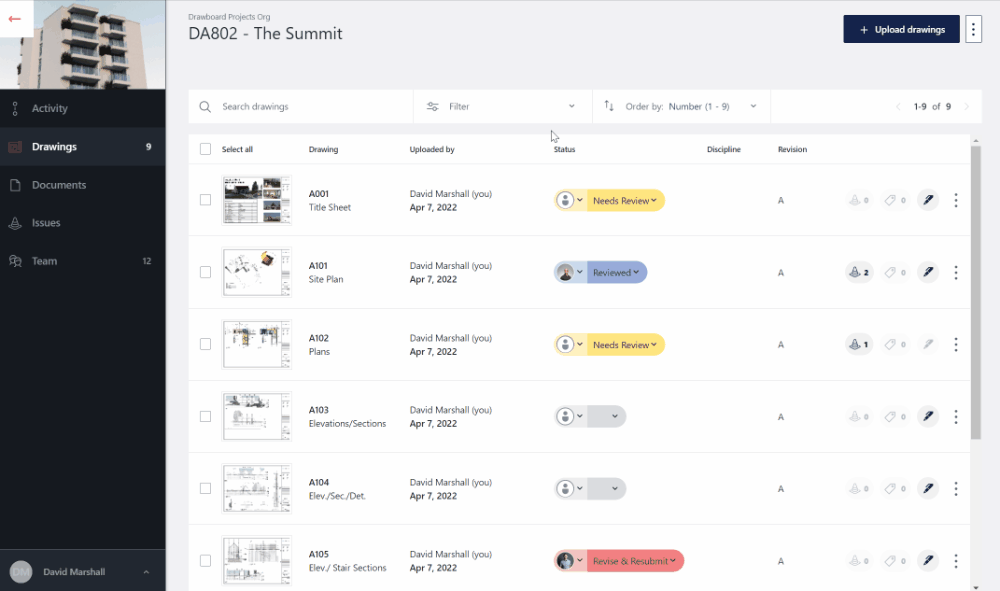 Keep things moving as deadlines approach
As deadlines approach, either sort your drawing list by status, or filter your drawing list to show drawings with a review status of Needs Review or In Progress, to see what still needs work. Then look at the assignees to see who needs to be contacted to speed things along, and either open a drawing and @mention them in a comment to notify them via email, or reach out on your company's instant messaging platform.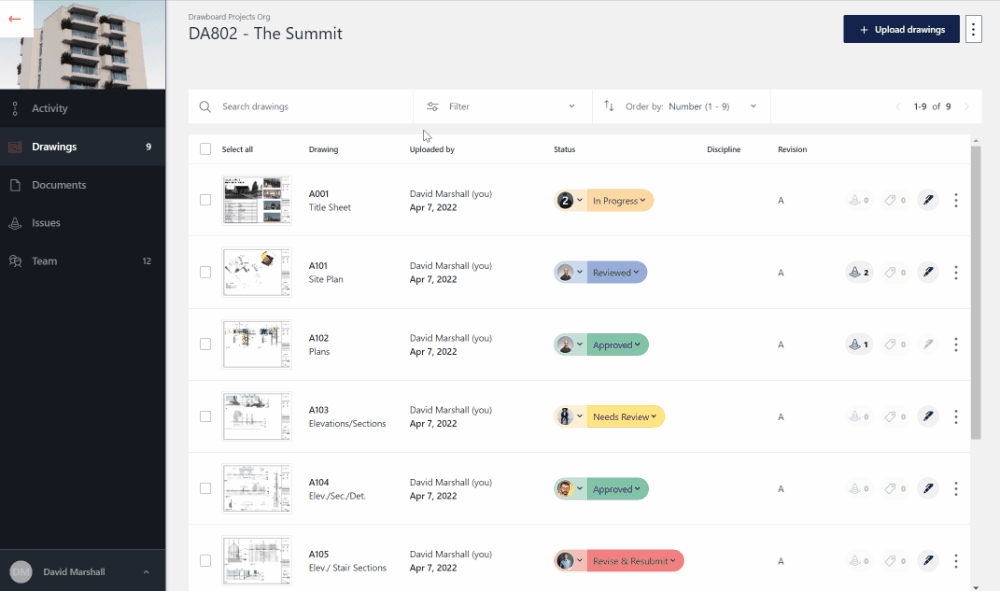 The Assign and Review Status are simple workflow tools to aid review co-ordination, and don't include any automation beyond notifying users when they are assigned to drawings.