Available on: Web app
Complete your reviews faster, by linking Oracle® Aconex® with Drawboard Projects.
Using this integration, you can quickly load sheets from Aconex into Projects and make them available for collaborative review or approval.
The Drawboard Projects Aconex integration allows you to:
Upload Aconex Documents into Projects seamlessly while preserving metadata from Aconex (document number, title, revision and tags)
Once inside Projects, add markups, gather timely feedback from the right people, and resolve issues with team members for traceable feedback
Sync drawings back into Aconex after reviews are complete, either as new revisions of existing Aconex Documents or as completely new Aconex Documents
Control which Projects markup is included in drawings synced back into Aconex
Uploading Aconex Documents into Projects
To upload your existing project drawings from Aconex to Drawboard Projects:
Within Drawboard Projects, open a project and navigate to the Drawings tab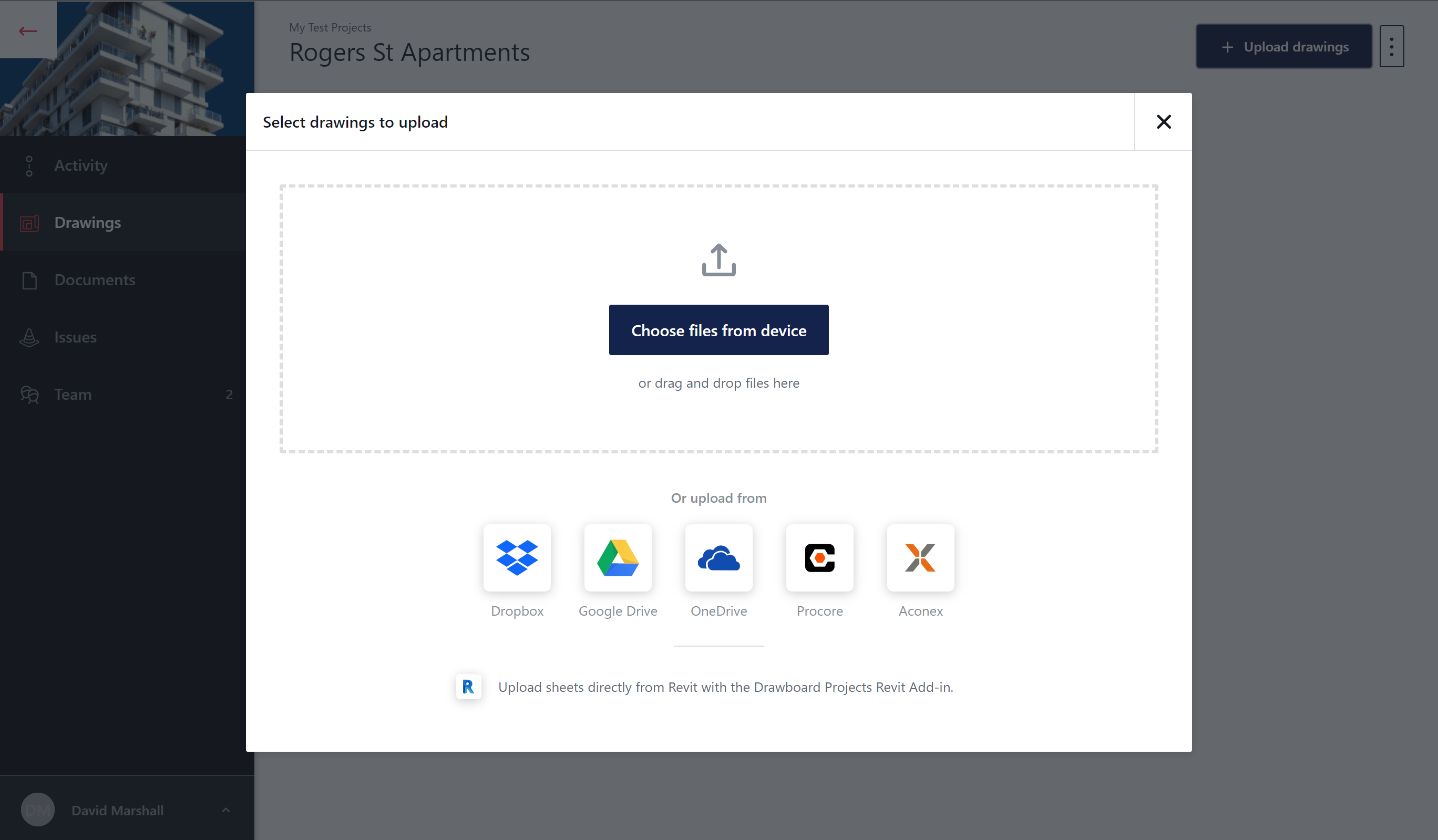 Click the Upload Drawings button in the top right corner of the screen
Click the Aconex logo at the bottom right of the upload popup
You will be taken to the Aconex login page to link your Aconex account, and then brought right back to your project in Drawboard Projects to continue the syncing process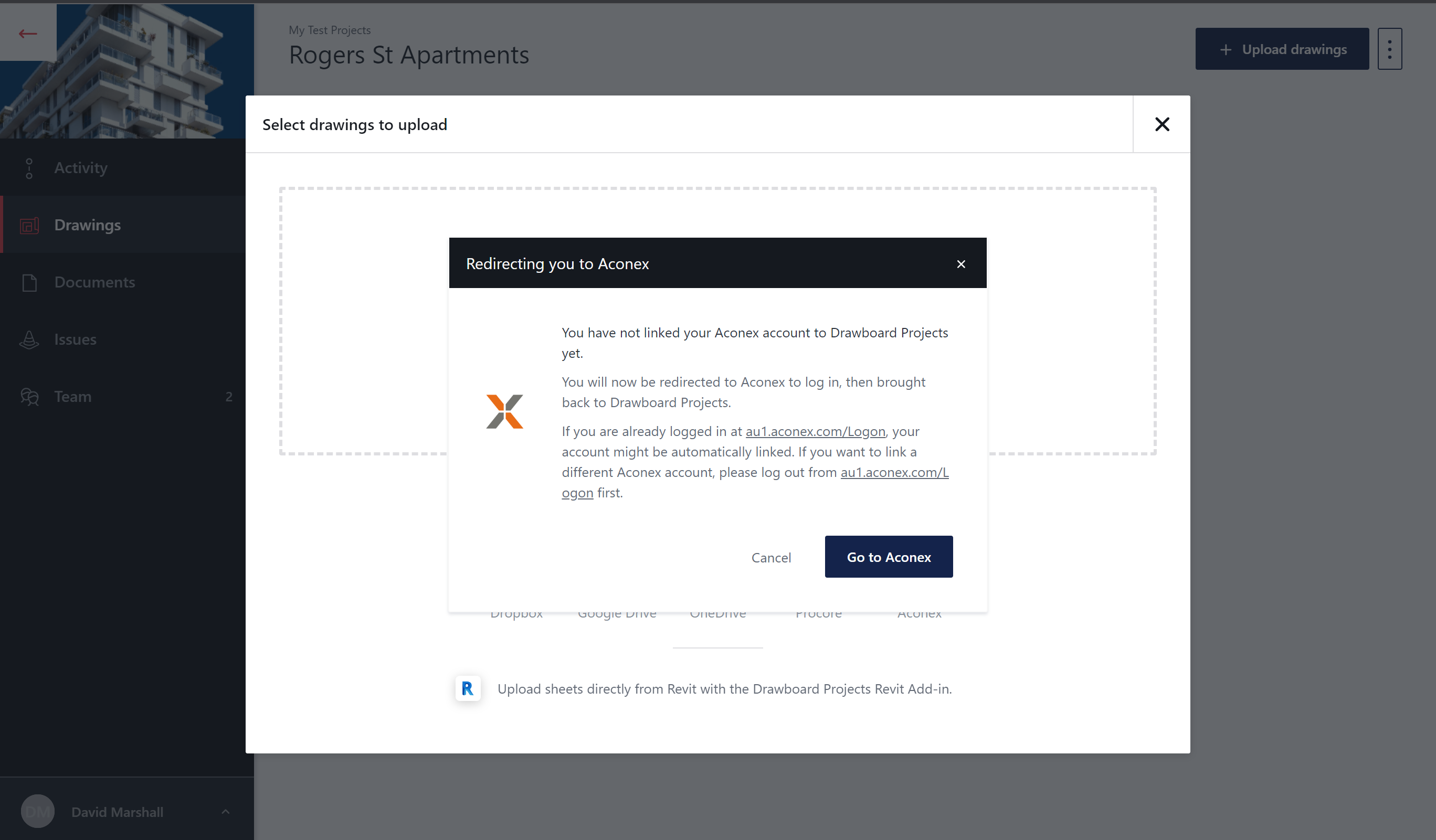 Tip: Now that you have linked your Aconex account, this information will be saved upon future logins to Drawboard Projects and the accounts will stay linked.
Select your Project from the dropdown list
Select your Document Source from the dropdown list. This will be either the Aconex Document Register or a particular Transmittal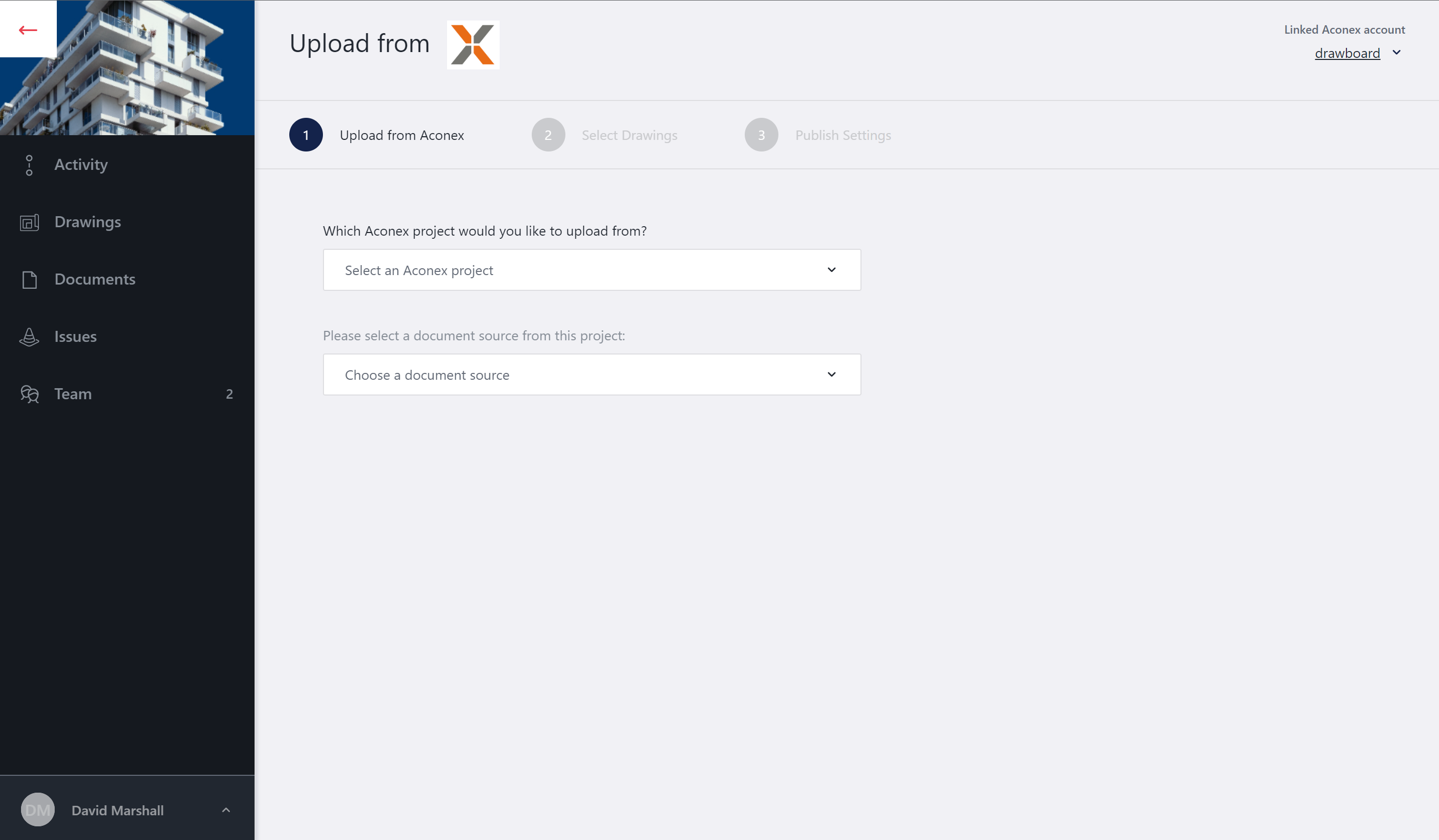 From the list of Drawings associated with this project in Aconex, select each Drawing individually, or click Select All to add all of your Drawings at once (maximum of 100 drawings at any one time) and click Next
Select whether or not to import any Aconex tags associated with the selected Drawing(s), and click Publish Drawings.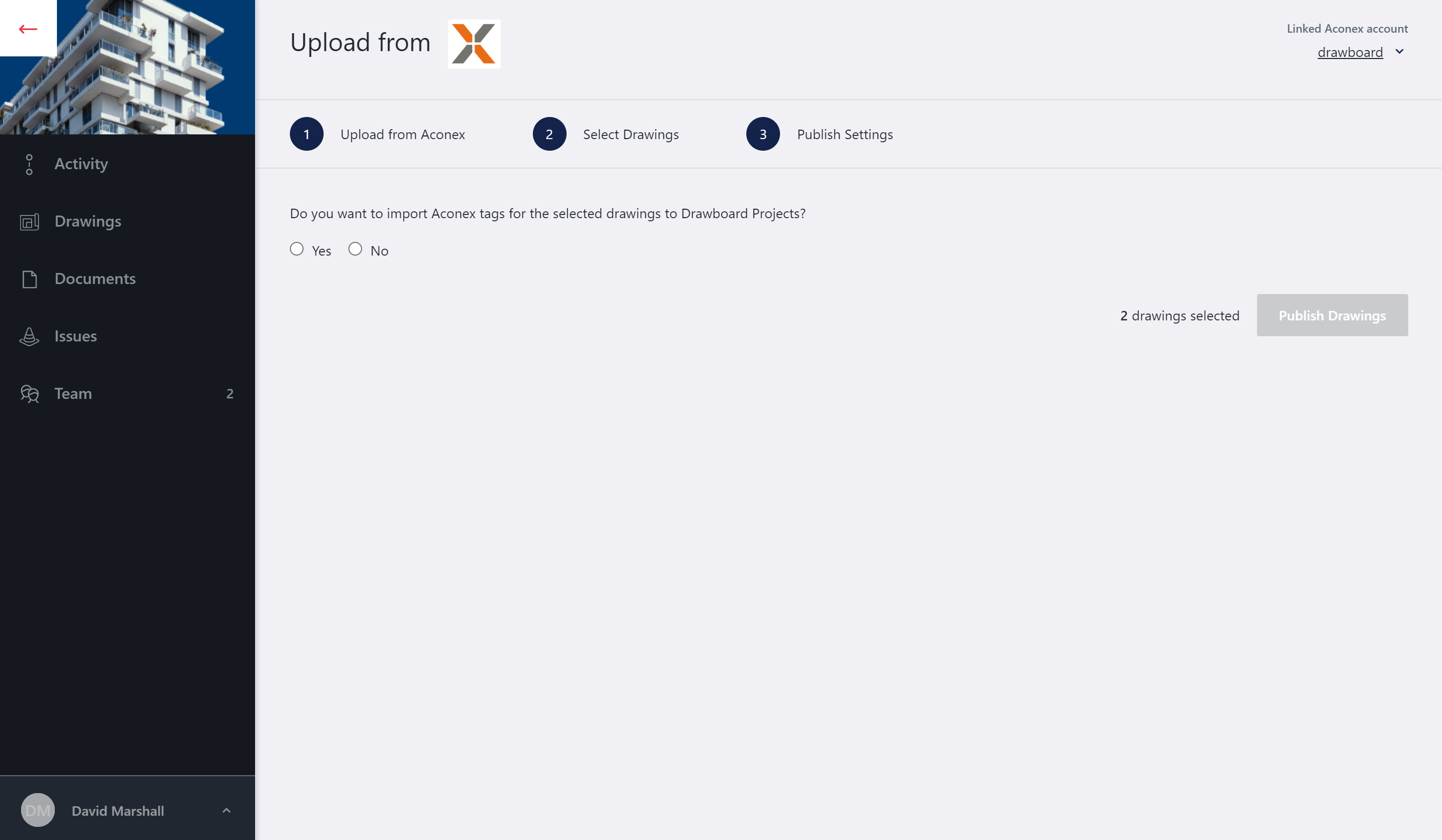 All imported Aconex Drawings will be displayed under the Drawings section in Drawboard Projects, unless it is a multi-page document, which will be displayed under the Documents section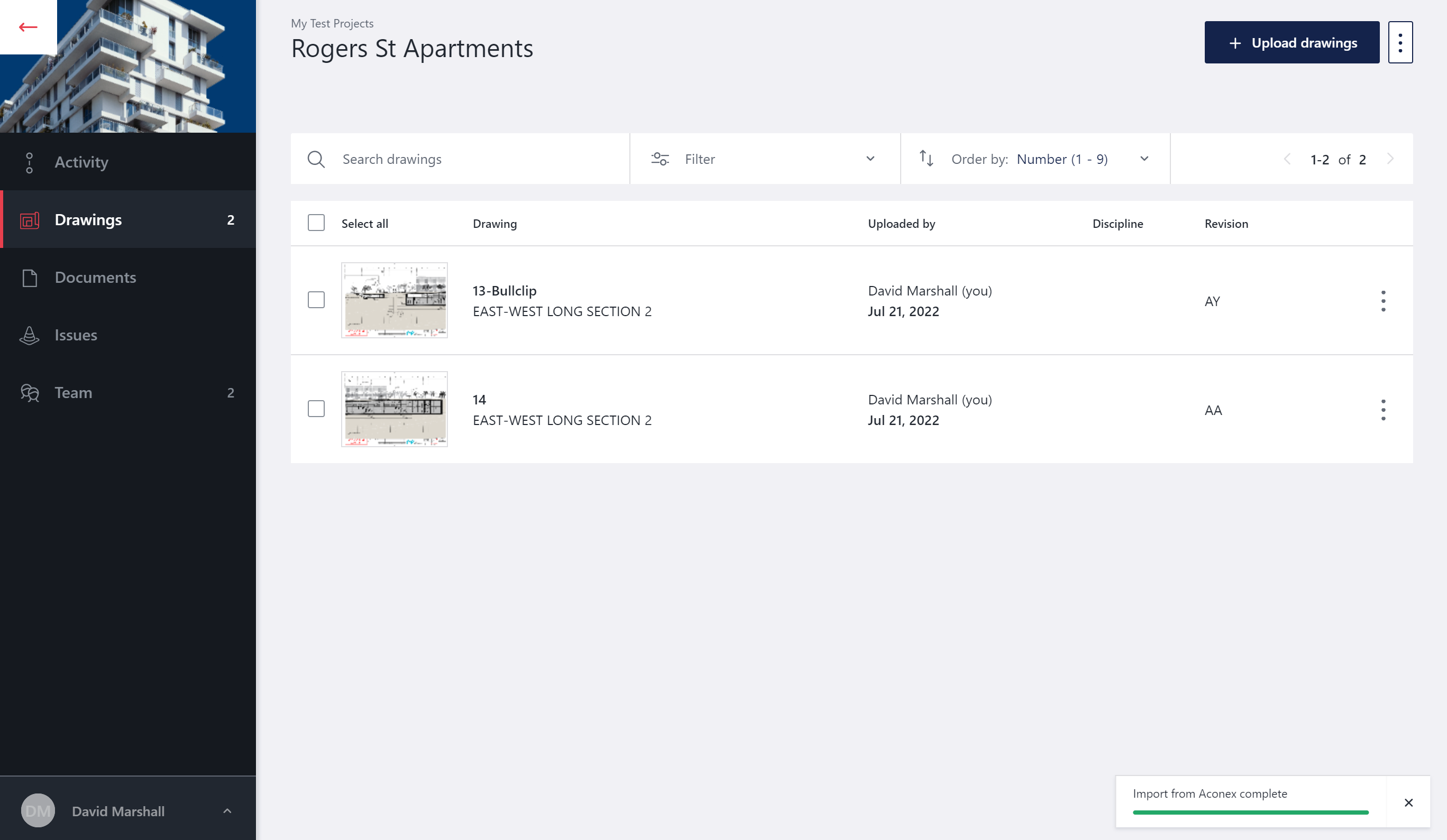 You will receive a notification when the upload is complete, and after a brief period the drawing list will refresh to show the newly imported files
Syncing Projects drawings and markup to Aconex
Once all your markups are complete (or if you just want to sync your progress sets back to Aconex periodically) drawings can be exported from Projects to Aconex, including all or some of the markup that has been added in Projects. Drawings remain unchanged in the project after an export.
Tip: Only Project Owners and Project Administrators can export drawings back to the Aconex Document Register.
To export a Drawing to the Aconex Document Register:
Within Drawboard Projects, open a project and navigate to the Drawings tab
To sync a single drawing, click the "..." menu to the right of that drawing then choose Sync
To sync multiple drawings, select the drawings you wish to sync then click the Sync button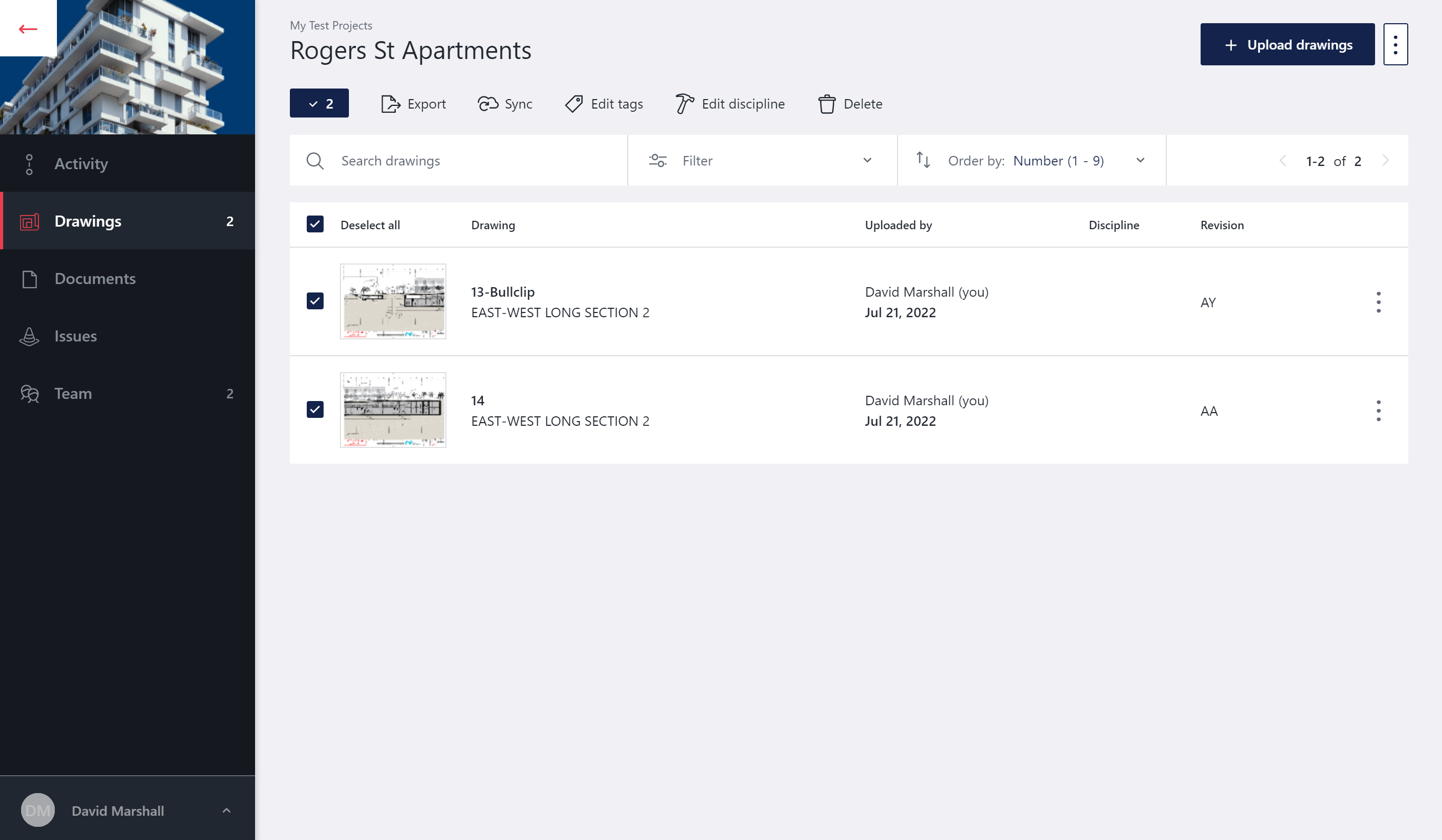 Click the Aconex logo in the sync popup
Tip: If you have not previously logged into Aconex from within Drawboard Projects, you will be prompted to log in with your Aconex username and password
Select your Project from the dropdown list
To add a new revision to existing Aconex Document(s), select Supersede an existing Aconex Document

When superseding, there are two options that can be used to set the new Revision in Aconex:

Append a modifier to the current Aconex Revision to add up to 3 characters at the end of the existing Revision
Enter a new Aconex Revision to completely replace the Revision in Aconex

To upload the drawing(s) as completely new Aconex Documents, select Upload as a new Aconex Document

When uploading as a new Aconex Document, enter the initial Revision

If there are Mandatory fields in your Aconex project, please choose the appropriate fields for these documents.
Select the File name format for the drawings
Use Included annotations to set which annotations will be included in the drawings that will be sent to Aconex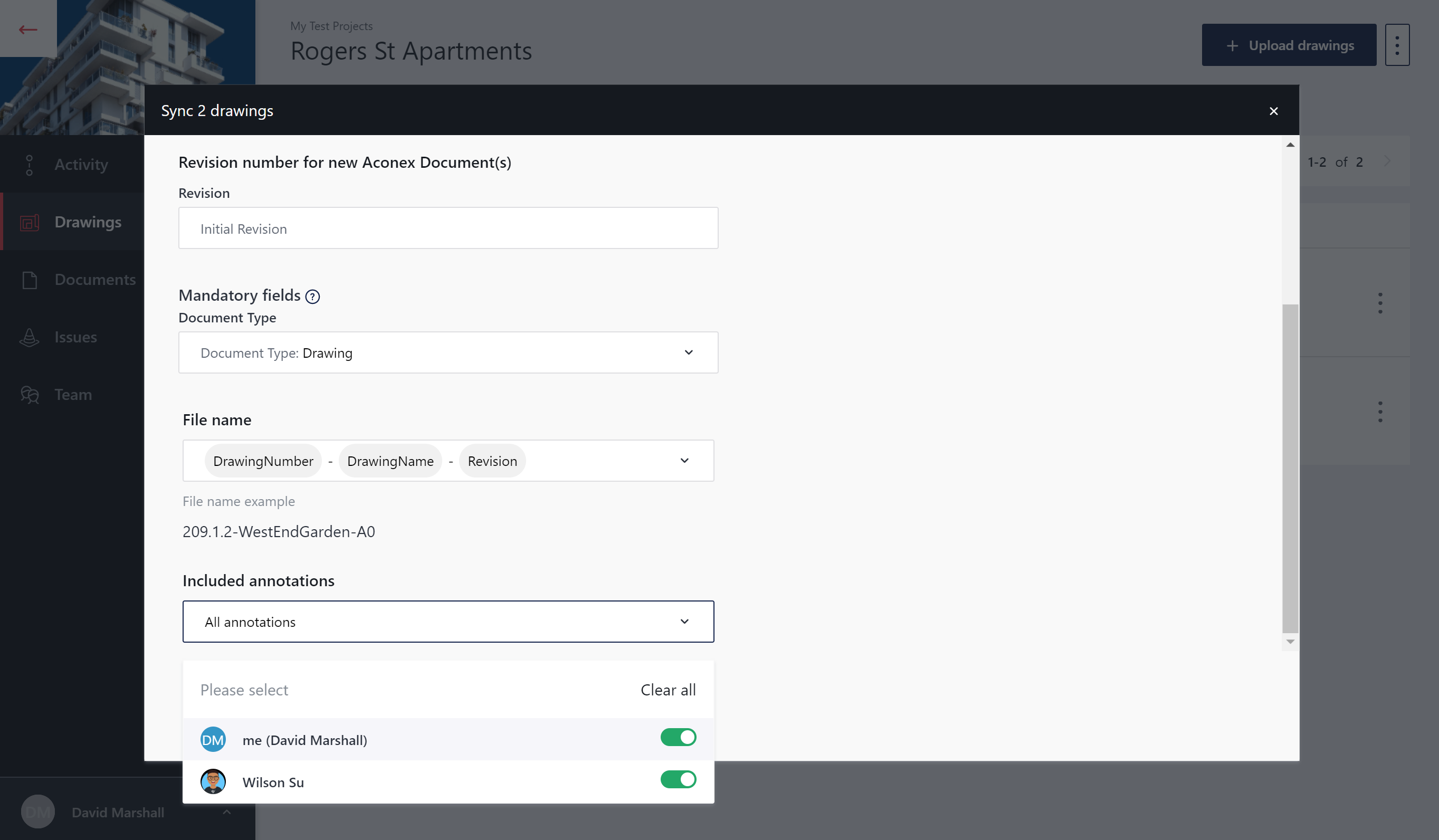 Click Sync drawings
A confirmation screen lists all the drawings you selected to export to Aconex and identifies any that cannot be exported. Drawings that cannot be exported can be skipped so that the sync can continue, or the sync can be cancelled so that the identified issues can be rectified before trying to sync again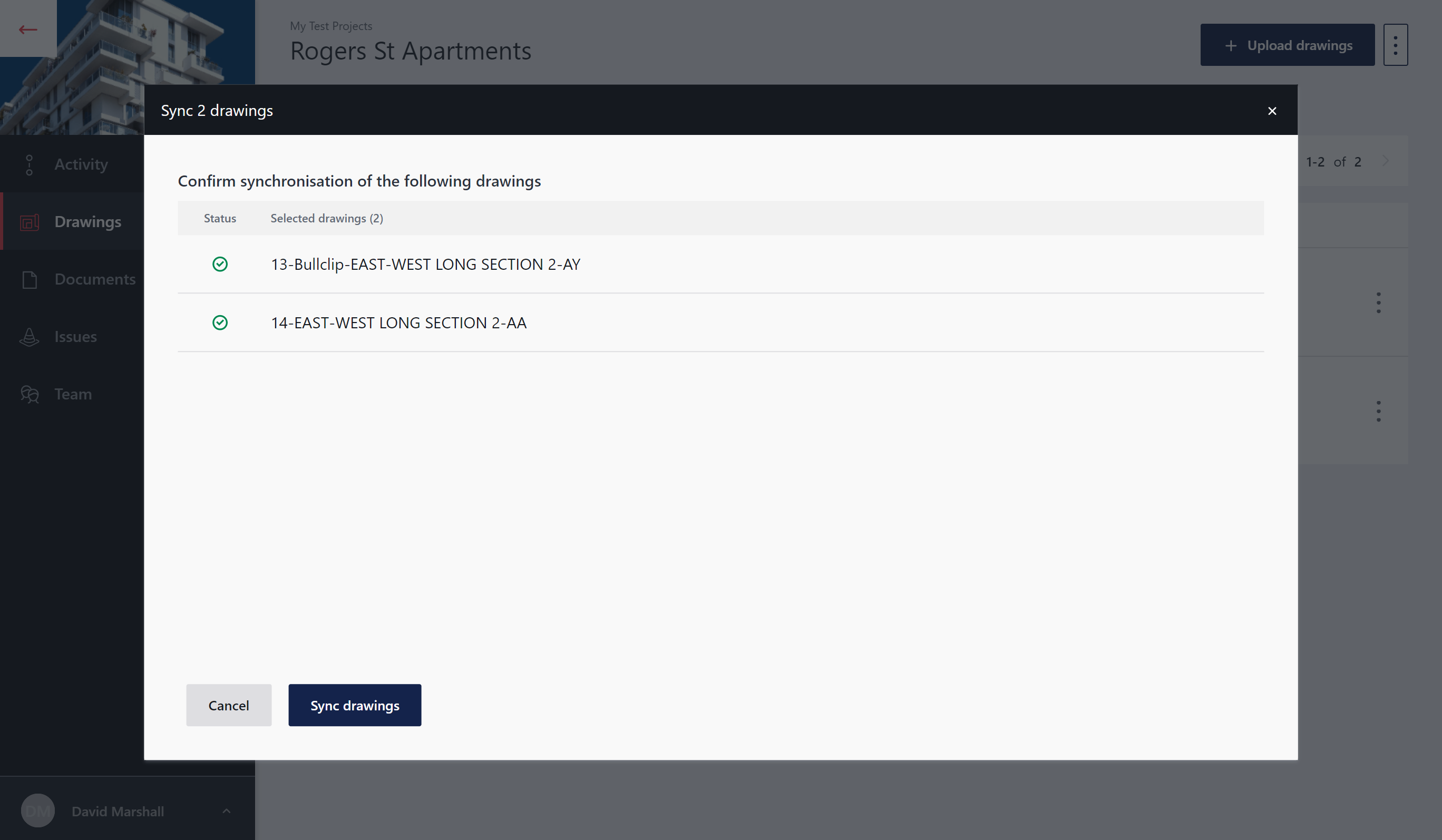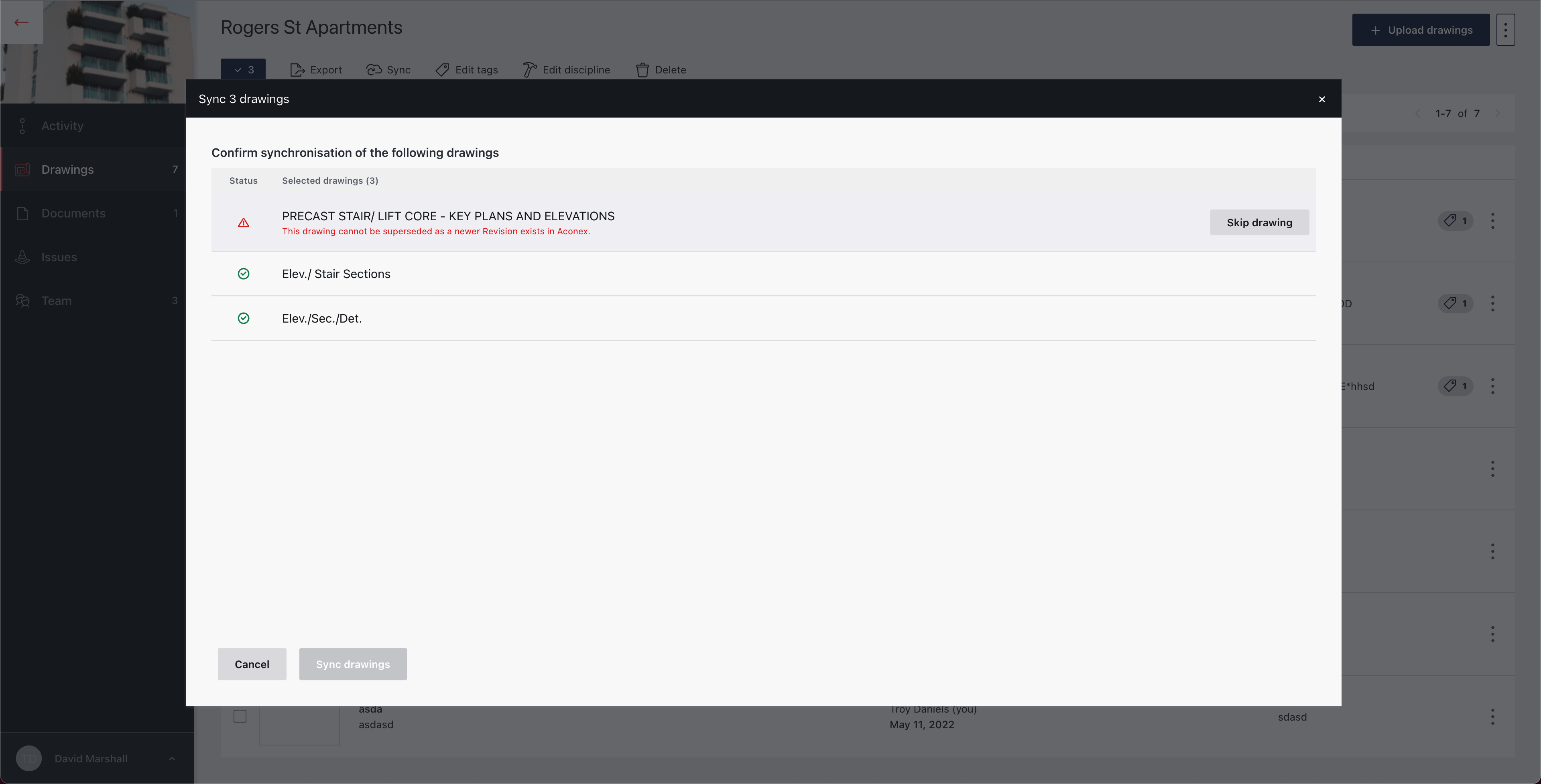 Once the above steps are complete, you will be able to access the exported drawings in the Aconex Document Register
Limitations
Aconex is a powerful and configurable system. Our integration works with configurations common to our customers, but there may be Aconex configurations that impact or prevent the syncing of drawings from Drawboard Projects back into Aconex. If this occurs, please raise a support request using the link at the top of this page.
The currently known limitations are:
New revisions can only be added to Aconex Documents with the type "Drawing"
If "Supersede an existing Aconex Document" is selected and a supersede operation fails, the affected drawing will be uploaded as a new Aconex Document
Syncing to Aconex will fail if "Append a modifier to the current Aconex Revision" is selected and the length of the modifier + existing revision exceeds the Aconex field size limit of 15 characters