Once you have uploaded your document to our Drawboard cloud storage, you can now start your collaboration with your peers, colleagues, friends, family, anyone in the world. You can do live markups that syncs across multiple users in an instant. Start sharing now!
3 ways you can share your document
You can share your document via the Preview Pane and Canvas.
Preview Pane
The Preview Pane which is located on the right side of the dashboard will only appear after you have clicked a document from the document list in the dashboard.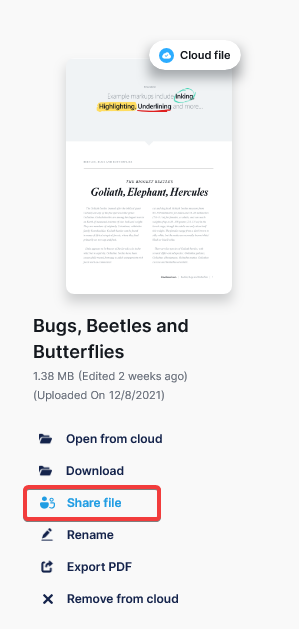 Steps:
Navigate to the dashboard
Click on a cloud document
Navigate to the preview pane
Click the Share button
This will open the Share Modal.
Canvas
You will find a button on the tabs bar (next to your profile) called Upload/share button. If you clicked on it, you will be able to find the share file button.

Steps:
Open a cloud document
Navigate to the tab bar in the top right corner
Click the share button
This will open the share modal
Sharing Modal
Once you have launched the sharing modal, you will be able to choose 2 different ways on how you want to share your documents: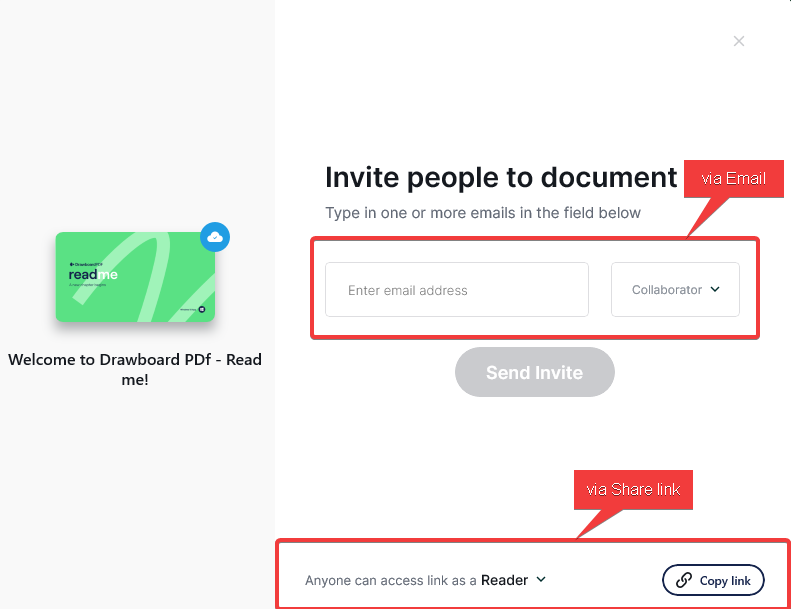 via Email
This will send an email with a link to the document. This link can only be accessed by the person who owns the email address it was sent to, and only if they sign up for a Drawboard account.
Steps:
The share modal will appear in the middle of the screen
In the email box enter the email address you would like to share the document with
Press enter. This will confirm the email address
In the dropdown select the link permissions: Reader or Collaborator. Find out more here.
Press Send invite
via Share link
This is a generated link that can be copied and pasted anywhere. Anyone with the link can access that document.
Steps:
The share modal will appear in the middle of the screen
At the bottom of the screen there will be a dropdown
Click the dropdown to change the link permissions: Reader or Collaborator. Find out more here.
Click copy link
You can now share that link via email, instant messenger or even text message