The lock icon (shown in the image) that you see on the toolbar doesn't actually prevent you from using the tools.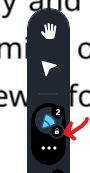 You can still use the tool even though there is a lock button on it. To use the tool, follow the steps below:
Select the tool from the toolbar
Depending on which tool you selected, simple tap or tap & drag on the document
For those who are curious on what the tool lock feature does, feel free to read this article about it.