To launch the web canvas:
Navigate to the Document or Drawing list.
Select a Drawing or Document from the list to open the drawing in the canvas.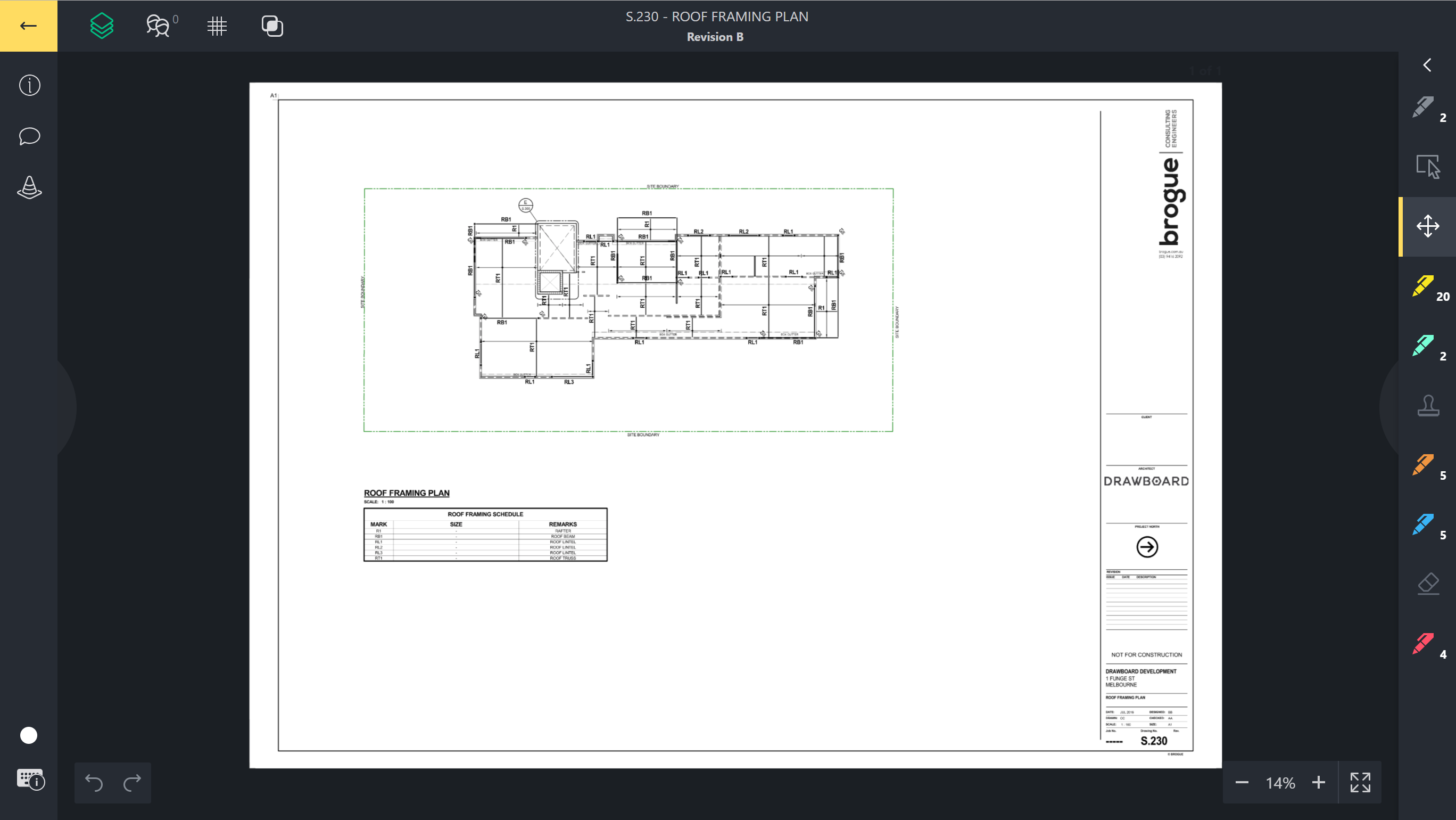 The selected Document or Drawing will launch in the web canvas and you will be able to:

View the document in the highest quality available,
Pan and zoom around the document,
Add Notes and markups to the Drawing or Document,
View the Document Information (title, revision, author etc) by opening the Information menu in the top right,
See all public layer annotations appear in real-time as team members publish them,
Overlay the open drawing with another drawing or revision,
View your Draft layer annotations made on the Windows App,
The currently active elements on the web canvas are:
The page view – the active document you can see on screen.
The tools drawer - the "<" icon in the top right corner that opens the tools menu.
The current tool icon - the tool highlighted in yellow.
Your favourite tools - any favorite tools you have created in the tools drawer menu.
Zoom controls – current zoom % and the + - controls to change that.
Full screen mode – fills the screen & clears away the browser menus.
The project menu - the navigation menu back to the other project documents.
Layer manager – the user icon allows you to filter the public layer by user.
Information menu - See all key document information.
Comments - the comment feed for the open drawing.
Overlay - a tool that allows you to overlay two drawings and compare the differences.
Grid view - a list of page grid and line styles that overlay over the drawing to assist with sketching and text.
Issues (Drawings only) - opens the Issues tab for issues specific to that drawing.
View Mode - the light or dark circle (depending on your current mode) in the bottom left corner of the screen, which allows you to toggle between light and dark modes.
Keyboard Shortcuts - expands the full keyboard shortcuts menu for easy access while still on the canvas.