As an enterprise application, we recognize that we need to provide flexibility with deployment of Drawboard Projects. Our model is based therefore around the Microsoft Store for Business and the public Microsoft Store, allowing your users to access Drawboard Projects in manner which is most appropriate to your organization's software acquisition policies.
Licensing
Regardless of where Drawboard Projects is downloaded from or how it is deployed to users, licensing is managed outside of the Microsoft Store purchase mechanism.
A license can be purchased in one of two ways.
License(s) can be purchased directly in the web application on the Subscriptions page, which will take you to another screen for payment directly by credit card (shown below).
License(s) can also be purchased via bank transfer directly though our Sales team. Please reach out to us at sales@drawboard.com.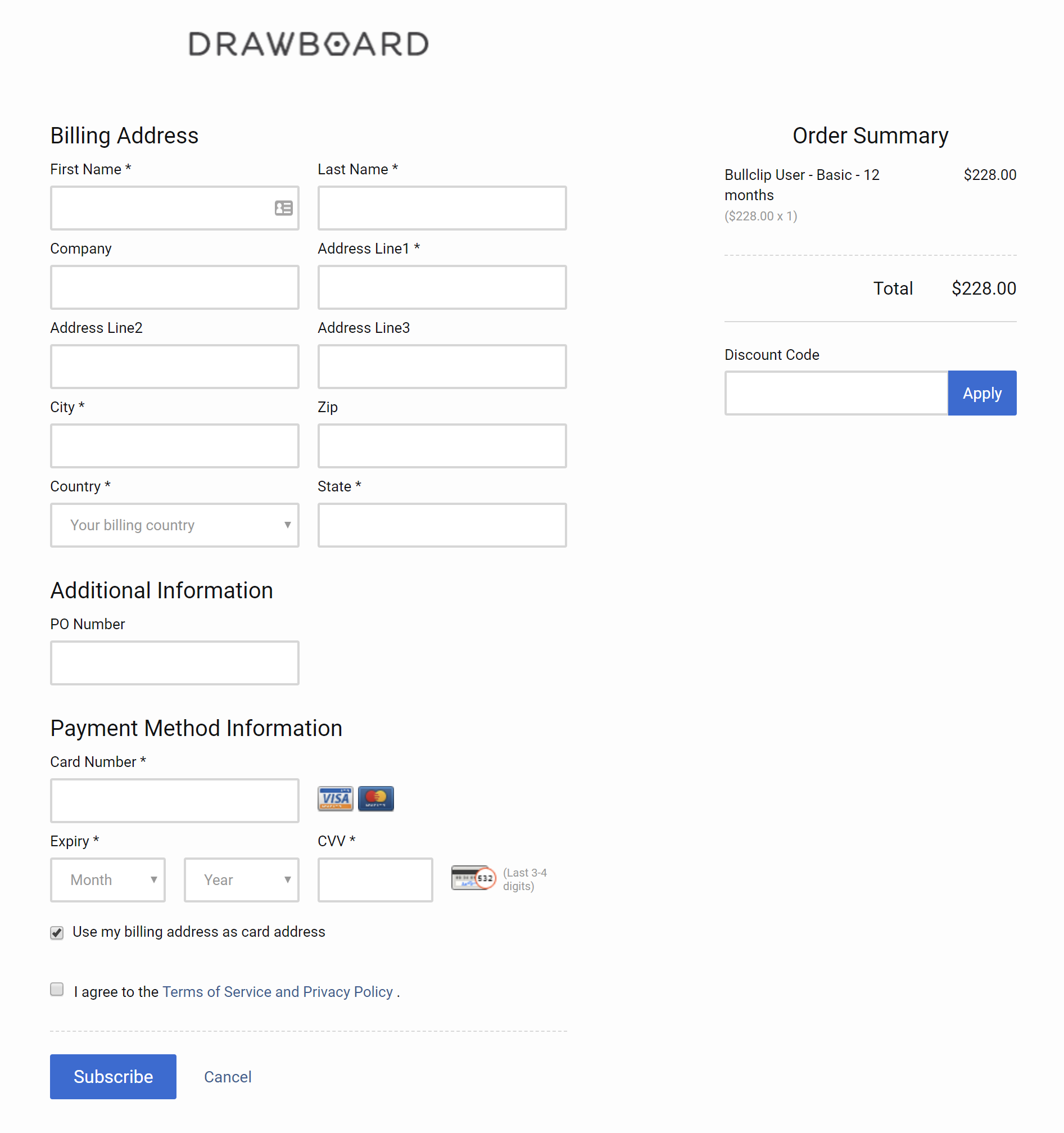 When a user accesses Drawboard Projects, they will be asked to sign into the application using credentials that they have created by:
Signing up for a free trial on www.drawboard.com/projects, or
Accepting a project invitation from another user.
All subscription and license actions must be performed within the web app.
Deployment
Public Microsoft Store
Currently, the only option available to deploy the Microsoft 10 Drawboard Projects application is by downloading the application on the public Microsoft Store.
Microsoft Store for Business
We recognise that it is not always reasonable for enterprise users to download Drawboard Projects from the public Microsoft Store. Therefore, we have also made Drawboard Projects available for distribution using the Microsoft Store for Business.
The Microsoft Store for Business will allow enterprise administrators (who administer a Microsoft Work or School account, such as Microsoft Azure Active Directory or Microsoft Office 365) to:
Assign Drawboard Projects to users
Add Drawboard Projects to a Private Store for their users so that using Group Policy, Microsoft Store access is restricted to Private Store access only.
Surface Hubs
Install Drawboard Projects on Surface Hub via Intune
You can discover more about signing up for Microsoft Store for business here.